cd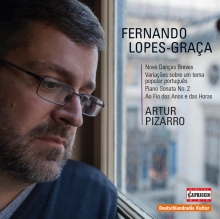 FERNANDO LOPES-GRAÇA
Piano Works
Artur Pizarro, piano
C5196 PC: 21 UPC: 845221051963
FERNANDO LOPES-GRAÇA (1906 – 1994)
Nove Danças Breves (1938-1948)
Variações sobre um tema popular português, op. 1 (1927)
Piano Sonata No. 2, op. 26 (1939)
Ao Fio dos Anos e das Horas
Classical Modernism Meets Portuguese Folklore
Among the masters of classical Modernism, there are three Portuguese composers who are considered greats today: Luís de Freitas Branco (1890-1955), Fernando Lopes-Graça (1906-94) and Freitas Branco's most gifted pupil Joly Braga Santos (1924-88). At the same time, these three composers stand for three basic currents in the music of their time. Lopes-Graça integrated Portuguese folklore especially in his oeuvre by combining it with the achievements of atonal, dissonance-spiced contemporary harmony like other modern national composers such as Bartók, Saygun or Ginastera. He advocated Communist ideals and was a convinced opponent of the Fascist Prime Minister António de Oliveira Salazar, who as leader of his movement Estado Nuovo ruled the country with an iron hand from 1932 to 1968. This led to Lopes-Graça being imprisoned several times and to many obstacles being placed in his way as a composer and teacher. There is no doubt that Lopes-Graça was a subtle and independent master not only in orchestral and chamber music, but also especially in his piano works, which are idiomatically and effectively written for the instrument.