cd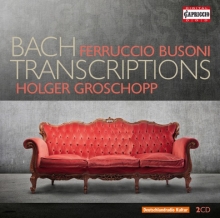 Ferruccio Busoni
Bach Transcriptions
Holger Groschopp, piano
2CD · C5198 PC: 21 (Special Price) UPC: 845221051987
BACH TRANSCRIPTIONS
Prelude and Fugue in D major · Toccata in D minor · Choral Preludes for the organ by Bach · Toccata in C major · Choral Prelude · Capriccio on the departure of his most beloved brother · »Floh-Sprung«-Canon (Premiere recording) · Improvisation on the Bach Chorale 'O friend of souls, how well is me' (Premiere recording)
Three transcriptions from Busoni's circle
Anna Weiß-Busoni (1833–1909): »Ferruccio« OP. 9 (Premiere recording)

The present album is to be understood as a complement to the box of four CDs (CAPRICCIO 7015) containing transcriptions and paraphrases based on seventeen different composers. It features Bach arrangements not yet represented in that collection but does not include those works that Busoni published without exercising significant changes in his capacity as an editor.
The program also includes some world premiere recordings of transcriptions the Berlin Pianist Holger Groschopp could find in the archives, and the arrangement of works by Bach also enjoyed great popularity in Busoni's circle of pupils – as some of the world premiere recorded pieces demonstrate.