cd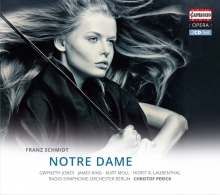 Franz Schmidt: Notre Dame
Opera Complete Recording
Jones · King · Moll · Laubenthal · RSO Berlin · Christof Perick
2CD · C5181 PC: 21 UPC: 845221051819
FRANZ SCHMIDT (1874-1939)
NOTRE DAME
Romantic Opera in 2 Acts
Text: Leopold Wilk, Franz Schmidt
- Gesamtaufnahme / Complete Recording -
GWYNETH JONES · JAMES KING · KURT MOLL
HORST R. LAUBENTHAL
RADIO-SYMPHONIE-ORCHESTER BERLIN
CHRISTOF PERICK
"Notre Dame" immediately evokes the hunchbacked bellringer, Quasimodo, and the films with C. Laughton and A Quinn; one remembers a gruesome, bloodthirsty tale from the late Middle Ages about deformed people, gypsies, villains, knights and priests. With their percise feel for the psychology of the plot, Franz Schmidt and his librettist Leopold Wilk condensed and modified the story and shifted its emphasis. In his novel The Hunchback of Notre Dame, Victor Hugo's prime intent was to portray 19th century Paris (with Notre Dame Cathedral as the symbolic main character) and to express his social concern for outcasts and the aesthetic and moral worth of ugliness. The opera is dominated not by Paris, not by Quasiomodo (of the five main characters, he has the smallest part), but by Esmeralda. She is at the centre oft the web of stories which make up the plot. The four principal male characters, Phoebus, Gringoire, the Archdeacon, and Quasimodo, have one thing in common – their love for Esmeralda. Men seem to be irresistibly attracted to her, even "bewitched". The lives of these four men are changed, and later destroyed, by their passion for Esmeralda. Meeting Esmeralda has disastrous consequences for all people involved. In her effect on men and the ensuing events, Esmeralda reminds one of Lulu. She is the innocent sister of child-woman Lulu. – However, Alban Berg was not to write his opera for another thirty years.
Also available:
Weitere Bilder