cd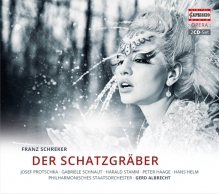 Franz Schreker: Der Schatzgräber
Opera Complete Recording
Protschka · Schnaut · Stamm · Haage · Philharmonisches Staatsorchester · Gerd Albrecht
2CD · C5175 PC: 21 UPC: 845221051758
LIVE FROM HAMBURG STATE OPERA
FRANZ SCHREKER (1878-1934)
DER SCHATZGRÄBER
Opera with a Prologue, 4 Acts and an Epilogue
- Gesamtaufnahme / Complete Recording -
JOSEF PROTSCHKA · GABRIELE SCHNAUT · HARALD STAMM
PETER HAAGE
PHILHARMONISCHES STATTSORCHESTER
GERD ALBRECHT

Franz Schreker's operas were among the most played works of the Weimar Republic. And, in fact, Der Schatzgräber was to become one of the most performed of all contemporay operas during the years of his time: in all 385 performances of the work are between 1920 – the year of the premiere – and 1932 in 50 different cities and productions. If these figures are compared with the 166 performances given to Alban Berg's Wozzeck between 1925 and 1936 in 29 different productions, then the popularity of schreker's opera is to be clearly recognized. Franz Schreker was almost exclusively a composer of operas – an almost singular case in the history of twentieth-century music – the reasons for which are to be found in his technique of musical composition. Schreker accepted and extended the independence of the individual harmonic (chordal) combination as a sonorous value in its own right as was first realized in Wagner's Tristan and Isolde. This is programmatically formulated in the Tristan - quotation occurring in the Interlude of Act III of Der Schatzgräber. As is also the case in the dramatic works of Wagner – certain tonal centres are utilized as "sonorous ciphers" for differing levels of dramatic meaning. Thus, in Der Schatzgräber the tone c sharp denotes the realm of illusion – the world of the treasure – while the tone d implies its opposite, the realm of reality or real life.
The work was however not only Schreker's most successful opera but also his last successful opera. Its later sudden loss of popularity coincides with the change in cultural climate of the year of 1924, a change which is documented in the fine arts by the transition from Expressionism to so-called New Objectivitiy (Neue Sachlichkeit) and on the political scene by the initial phase of economic consolidation in the young Republic.
Also available:
Weitere Bilder