cd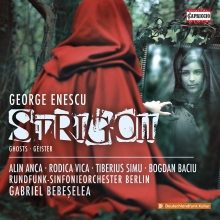 GEORGE ENESCU: STRIGOII (Ghosts)
World Premiere Recording
Rodica Vica · Tiberius Simu · Bogdan Baciu · Alin Anca · Rundfunk-Sinfonieorchester Berlin · GABRIEL BEBEŞELEA
C5346 PC: 21 UPC: 845221053462

Oratorium in 3 Teilen / Oratorio in 3 Parts (1916)
Text: Mihai Eminescu (1850 – 1889)
Die Königin / The Queen: Rodica Vica,Sopran / soprano
Arald: Tiberius Simu, Tenor / tenor
Der Magus: Bogdan Baciu, Bariton / baritone
Der Erzähler / Narrator: Alin Anca, Bass / bass

PASTORALE FANTASIEfür kleines Orchester (1899)
Pastorale Fantasy for small orchestra (1899)
Nobody knew anything aboutStrigoii. The script, lost together with other items in the turmoil of the First World War, was purchased back by the Director of the Enescu Museum. To make it easier to understand how Strigoiiwas created, it was necessary to undertake the decipherment and reconstruction of the manuscript. When Enescu approached Strigoiiin 1916, it was the result of an older admiration for the poet Mihai Eminescu that was to last until the end of the composer's life. Whilst Eminescu evinces some similarities to German Romanticism in his poem (Novalis or Tieck), in StrigoiiEnescu also shows stylistic affinities to some contemporaries such as Alexander von Zemlinsky or the young Alban Berg.


Youtube
Weitere Bilder