cd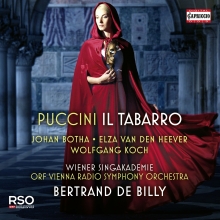 GIACOMO PUCCINI: IL TABARRO
Botha · Koch · Brunner · van den Heever
WIENER SINGAKADEMIE · ORF VIENNA RADIO SYMPHONY ORCHESTRA · BERTRAND DE BILLY
C5326 PC: 21 UPC: 845221053264
IL

TABARRO


Opera in un atto / Opera in one act (1913-16)
Libretto: Giuseppe Adami (1878-1946) nach / after Didier Golds "La Houppelande


LUIGI

: Johan Botha, Tenor / tenor


MICHELE

: Wolfgang Koch, Bariton / baritone
LA

FRUGOLA

: Heidi Brunner, Sopran / soprano


GIORGETTA

: Elza van den Heever, Sopran / soprano
IL

TINCA

/

LIEDERVERK

Ä

UFER

(Song Seller) /

LIEBENDER

(Lover)
Charles Reid, Tenor / tenor
IL

TALPA

: Janusz Monarcha Bass / bass


LIEBENDE

: Elisabeta Marin, Sopran / soprano


WIENER

SINGAKADEMIE


(Einstudierung / Chorus Master: Heinz Ferlesch)


ORF

VIENNA

RADIO

SYMPHONY

ORCHESTRA




BERTRAND

DE

BILLY

, Dirigent / conductor

With "Il tabarro" Puccini wrote the first part of his projected opera triptych, with which he ultimately intended to parody and reverse Wagner's Ring tetralogy by stringing together three completely incoherent short stories. Once more, for Il tabarro the composer virtually emigrated to France, to which he had already made declarations of love with La Bohème and Manon Lescaut. This affinity is now mirrored more clearly than in these two operas in the music of The Cloak, which emanates French, well-nigh Impressionist perfume. Bertrand de Billy knows how to make the the score alive with a fantastic cast on his side. World famous tenor Johan Botha was on the top of his carreer.
Youtube
Weitere Bilder