cd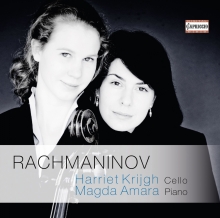 Harriet Krijgh
SERGE RACHMANINOV
Harriet Krijgh, cello Magda Amara, piano
C5258 PC: 21 UPC: 845221052588
Sonata for cello and piano in G minor, Op. 19
Élégie (from "Morceaux de fantaisie", Op. 3 No. 1)
Vocalise (from "Songs", Op. 34 No. 14)
Romance op. 4 No. 3 (In the silence of the secret night)

"To record music is a very intimate, personal process for which I have utmost respect", begins Harriet Krijgh. "Balance between emotion and self-restraint is an essential theme. Especially with such emotionally charged music like that of Sergej Rachmaninov the point is to bring in the correct amount of emotion." The Sonata for cello and piano op.19 and the 2nd piano concerto op. 18 likewise evolved after a rather epic phase of depression and compositional resignation. After the failure of his first symphony Rachmaninov had fallen into a critical, 3 year long creative pause, which finally demanded a hypno therapeutic treatment to end it. "With Rachmaninov I sensed an extremely sensitive artist. Such a long creative break must have caused very difficult emotional processes. The works that developed immediately after that time therefore are so much the richer in emotion or atmosphere because of it", says Harriet Krijgh.

Youtube
Weitere Bilder