cd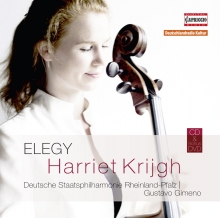 Harriet Krjigh: Elegy
Ernest Bloch: From Jewish Life - No. 1 Prayer · Max Bruch: Kol Nidrei · Jules Massenet: Élégie · Jacques Offenbach: Les larmes de Jacqueline etc.
Deutsche Staatsphilharmonie Rheinland-Pfalz · Gustavo Gimeno
1CD + Bonus DVD: C5222 PC: 21 845221052229

VIDEO TRAILER
https://www.youtube.com/watch?v=2I29iiwSeds

Ernest Bloch: From Jewish Life - No. 1 Prayer · Max Bruch: Kol Nidrei, op. 47
Jules Massenet: Élégie · Jacques Offenbach: Les larmes de Jacqueline, op. 76/2
Gabriel Fauré: Élégie in C Minor | c-moll op. 24 · Pablo Casals: Song of the birds

Bonus – DVD
Harriet Krijgh
The Cello and the Rainbow | Das Cello und der Regenbogen
The Portrait – Das Portrait
Subtitles: English · Picture Format: NTSC / Colour / 16:9 · DVD Format: DVD 5
YouTube:
https://www.youtube.com/watch?v=2I29iiwSeds&list=UUr7KYgaquRN-_lVg-nlonHQ

Euripides interprets "Elegy", the grand ancient song of lament, as a "barbaric, Asian cry of sorrow". To some extent an exotic sound coloration also infuses the elegiac compositions of the European masters of romantic and early modern music that have been assembled for this CD.
Twenty-three year old Dutch cellist Harriet Krijgh is one of today's most exciting and promising young cellists. Harriet has been invited on to the "Rising Star" series of the European Concert Hall Organisation (ECHO) for the 2015/16 season, she was nominated by Musikverein and Konzerthaus Vienna.
The included Bonus-DVD shows for the first time a documentary about life and career of the young cellist Harriet Krjigh.

Weitere Bilder