cd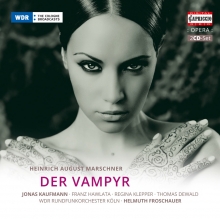 HEINRICH AUGUST MARSCHNER: DER VAMPYR
Romantic Opera Complete Recording
Jonas Kaufmann · Regina Klepper · Franz Hawlata · Thomas Dewald · WDR Rundfunkorchester Köln · Helmuth Froschauer
2CD · C5184 PC: 21 (Special Price) UPC: 845221051840
HEINRICH AUGUST MARSCHNER (1795-1861)
DER VAMPYR
Romantische Oper in 2 Aufzügen · Romantic Opera in 2 Acts
Text: Wilhelm August Wohlbrück
- Gesamtaufnahme / Complete Recording -
JONAS KAUFMANN
FRANZ HAWLATA · REGINA KLEPPER · THOMAS DEWALD
WDR RUNDFUNKORCHESTER KÖLN · HELMUTH FROSCHAUER
Something demonic and ghostly fills the air: we find ourselves in the age of Dark Romanticism, which cast its shadow on the opera. The fateful drama is of Scottish origin, whose essence consists of inherited curses, dark, guilty entanglements and bloody props, in order to wake fatalistic shivers. Among the audience at the premiere performance of the "Vampire" in 1828 at the Sächsisches Hoftheater in Leipzig was 15-year-old Richard Wagner. Marschner's opera crosses the path of the theatre novice many times. In 1833 the fledgling répétiteur Wagner in Würzburg got involved in:
"However, soon the Marschner score interested me sufficiently to make it worth while to have my bitter work published. I contributed a new allegro movement to Aubry's tenor aria in Marschner's 'Vampire', which I also wrote the text to. My resulting work was demonic and effective, registering the acclaim of the audience and encouraging recognition from my brother".
Wagner could still get worked up about the "loathsomeness of the thematic"; even Hans Pfitzner had to placatingly defend and emphasise the 'gruesomeness' of the text, the 'shivering' was the "best part of Marschner's music". Edgar Istel also captured his theatrical impression in creepy gothic words: "Whoever saw how the once-bitten vampire returns to life rises up by moonlight to the sounds of Marschner's ghostly music, they will never forget this impression."
Weitere Bilder