cd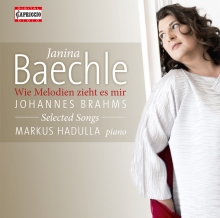 Janina Baechle
Brahms: Selected Songs
Markus Hadulla, piano
C5216 PC: 21 845221052168
JOHANNES BRAHMS (1833-1897)
Wie Melodien zieht es mir op. 105,1
9 Lieder op. 32
Dein blaues Auge op. 59,8
Es träumte mir op. 57,3
Meine Lieder op. 106,4
Abendregen op. 70,4
Regenlied WoO posth 23
Regenlied op. 59,3
5 Lieder der Ophelia WoO posth 22
4 ernste Gesänge op. 121
Sapphische Ode op. 94,4
JANINA BAECHLE, Mezzosopran / mezzo-soprano
MARKUS HADULLA, Klavier / piano
(Original Historic Brahms Piano, Brahms-Museum Mürzzuschlag, Austria)

If the German Lied is 'Romantic', it is not so either because it expresses the effusions of a nostalgic heart or because it embodies the perfection of the union between music and poetry or because it goes back in the annals of our cultural historians. No, the Lied is Romantic because it sets an endless dialectic in motion between fragments and totality, between perfect closure and infinite opening. Unlike Wolf (his inimical counterpart), for instance, Brahms was not tormented by the issue of the union between music and poetry, as he was confident of his own practices and did not postulate the problem in such terms. In this sense, 'Wie Melodien zieht es mir' (op. 105/1, 1886) is a kind of discrete manifesto: the melody seems to confirm the closed eyes that Klaus Groth's lines attribute with the magic of poetry and the heady fragrance of music. The art accomplished by Janina Baechle and Markus Hadulla does not solely consist of an intelligence afflicted with Brahmsian structures, but, in addition, of one constituting a tissue of infinite network, uniting in the very form of their 'programme' the true essence of Brahms' 'Romanticism', group by group, from one isolated song to the other. A song recital like the one presented here by these two exceptional musicians is Ariadne's thread guiding us to infinity.
Dorian Astor

German mezzo-soprano Janina Baechle, many years a member of the Vienna State Opera, will be invited in the near future as Brangäne (Tristan und Isolde) to the Opéra de Bordeaux, Jezibaba (Rusalka) to the Opéra de Lyon and the Wiener Staatsoper. Fricka she will sing at the Canadian Opera, Toronto, Erda (Rheingold) at the Semperoper Dresden and in a concert version with the Bavarian Radio Munich (under Simon Rattle), Mutter (Hänsel und Gretel) in a new production of the Wiener Staatsoper.
Important concerts: Schoenberg's Gurre-Lieder in Paris, Recitals f.e. at the Opéra de Bastille, Paris, at the Musée d'Orsay, at the Hugo Wolf Academy Stuttgart, in Montoire and Braunschweig, Mahler's 8. Sinfonie in Graz, Oedipus Rex, Dvorak Requiem as well as Wagenaar's Aveux de Phèdre with the Nederlands Radio Philharmonic Orchestra.





Weitere Bilder