cd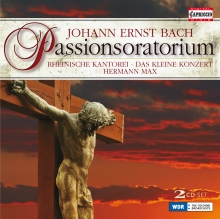 JOHANN ERNST BACH (1722-1777)
Passionsoratorium / Passion Oratorio (1764)
Rheinische Kantorei · Das Kleine Konzert · Hermann Max
2CD-Set: C5122 PC: 21 UPC: 845221051222



Passionsoratorium (1764)
für Sopran, Alt, Tenor, Bass, Chor, 2 Flöten, 2 Oboen, 2 Fagotte,
2 Hörner, Streicher und Basso continuo
Passion Oratorio (1764)
for soprano, alto, tenor, bass, chorus, 2 flutes, 2 oboes, 2 bassoons,
2 horns, strings and continuo

Das Vertrauen der Christen auf Gott
Eine Ode auf den 77. Psalm für Tenor, Chor und Orchester
An Ode on the 77th Psalm for tenor, chorus and orchestra

Meine Seele erhebt den Herrn
Motette für Soli, vierstimmigen Chor, Streicher und Basso continuo
Motet for solo voices, four-part chorus, strings and continuo

BARBARA SCHLICK, MARTINA LINS, Sopran / soprano · SILKE WEISHEIT, Alt / contralto · DAVID CORDIER, Countertenor · CHRISTOPH PRÉGARDIEN, MARTIN SCHMITZ, Tenor
STEPHEN VARCOE, HANS-GEORG WIMMER, Bass
RHEINISCHE KANTOREI · DAS KLEINE KONZERT
HERMANN MAX, Dirigent / conductor

One of the peculiarities of today's concert world is that from the rich tradition provided by the former genre of the Passion of Christ set to music, only two works have been able to establish temselves permanently – the two monumental Passions by Johann Sebastian Bach. The Passion Oratorio by Johann Ernst Bach, the nephew, godson and pupil of Johann Sebastian, is one of the lesser-known works. To this day, J.E. Bach's own vocal works have not been documented, indeed, they have not even been completely catalogued. It is possible with some difficulty to trace about 20 compositions. In order to be able to correctly assess his musical achievement, reference must also be made to the other music of Johann Ernst Bach's day and age. Despite his isolation in Eisenach in Thuringia, he was in no way cut off from the contemporary musical developments taking place in the large musical centres of Berlin, Dresden and Hamburg. With his explicit commitment to sacred music, Johann Ernst Bach occupies an extremely isolated position among the Protestant German composers of the second half of the 18th century. For Carl Philipp Emanuel and Wilhelm Friedemann Bach, for example, the production of sunday cantatas was
one of the more tiresome duties associated with their professional existence. On this point, Johann Ernst Bach took a very different view. Although the religious works of both Telemann and J. S. Bach were, in his opinion, "admirable masterpieces", he strongly criticised the decay of sacred music during his own generation and demanded that this be counteracted by "artistic and regular styles of composition".



Weitere Bilder