cd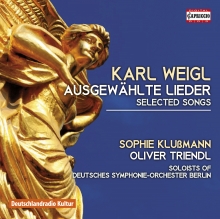 KARL WEIGL (1881-1949)
Selected Songs
Sophie Klußmann · Oliver Triendl · Soloists of Deutsches Symphonie-Orchester Berlin
C5259 PC: 21 845221052595
Fünf Lieder aus "Phantasus" op. 9 für hohe Stimme und Klavier (1905)
Five Songs from "Phantasus" op. 9 for high voice and piano (1905)

Fünf Lieder für Sopran und Streichquartett op.40 (1934)
Five Songs for soprano and string quartet op. 40 (1934)

Drei Mädchenlieder op.12 (1909) für Sopran und Klavier / for soprano and piano

Sechs Kinderlider für hohe Stimme und Klavier (1932-1944)
Six Children Songs for high voice and piano (1932-1944)

Das Rosenband (from Liebeslieder op. 22) (1908, rev.1944)

Fünf Duette für Sopran, Bariton und Klavier (1909)
Five Duets for soprano, baritone and piano (1909)
The Invisible Light (1939) für Singstimme und Klavier / for voice and piano

Ein Stelldichein op.16 (1904) für Sopran und Streichsextett / for high voice and string sextet

Sophie Klußmann, Sopran / soprano
Sebastian Noack, Bariton / baritone (21-25)
Oliver Triendl, Klavier / piano
Soloists of Deutsches Symphonie-Orchester Berlin
By the late 19th and early 20th centuries, the Lied genre had arguably reached a peak with such late-Romantic masters as Mahler, Strauss and Wolf in their song-writing prime. Composers of a younger generation such as Zemlinsky, Schoenberg, Schreker and Joseph Marx cultivated the medium no less enthusiastically. This was the musical environment into which Karl Ignaz Weigl was born in Vienna in February 1881. Already at the age of 15 he had composition lessons with Alexander Zemlinsky, a family friend. It was clear from an early stage that the writing of vocal music was a particular passion of Weigl's. With the Nazis rise to power in the 1930s, Weigl, as a prominent public figure of Jewish descent, found himself in an increasingly precarious position. Sensing the writing on the wall following Hitler's annexation of Austria in 1938, he and his family fled for the United States. Weigl died there in August 1949 at the age of 68 with much of his large output lying neglected and rarely performed. One can hope that recordings such as the present one will help to raise consciousness among performers and their public of these highly individual and very beautiful songs of which can stand comparison with those of any of Weigl's contemporaries.


Weitere Bilder