cd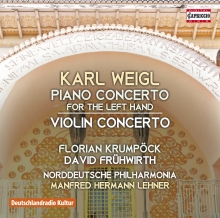 Karl Weigl (1881-1949)
Concerto for Piano (Left Hand) and Orchestra (1924) · Violin Concerto (1928)
Florian Krumpöck · David Frühwirth Norddeutsche Philharmonie
C5232 PC: 21 845221052328
Since the revival of so-called Entartete Musik in the 1990s, interest in Karl Ignaz Weigl's music has grown but he still remains a largely unknown figure to most listeners. Weigl was born in Vienna in February 1881 and had private composition lessons with Alexander Zemlinsky, a family friend. By the early-1920s, Weigl was an established figure in the musical landscape of Vienna and it was probably for this reason that he was approached by the one-armed pianist Paul Wittgenstein to compose a left-hand piano concerto. Paul's family fortune enabled him to commission some of the most eminent composers of the day to write works specially for him: Korngold, Britten, Hindemith, Prokofiev, Ravel, Franz Schmidt, Richard Strauss and Karl Weigl.
Unfortunately, for reasons unknown, Wittgenstein failed to perform Weigl's concerto. Thus it was that the concerto received its belated premiere in 2002 in Vienna by Florian Krumpöck, the soloist on the present recording. Despite his no doubt discouraging experience with Wittgenstein, Weigl returned to the concerto medium four years later with a violin concerto.
It can be hoped that recordings such as the present one will help to further draw attention to his large and varied output which may yet contribute to the repertoire it was designed to enrich.

Weitere Bilder