cd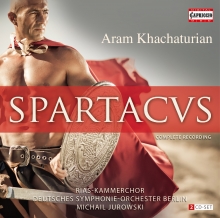 KHACHATURIAN: SPARTACUS
Ballet in 3 Acts (Complete Recording)
Deutsches Symphonie-Orchester Berlin · Michail Jurowski
C5112 PC: 21 UPC: 845221051123
in the

BOLSCHOI

THEATRE

MOSKOW

Version
nach der Fassung des

BOLSCHOI

THEATERS

MOSKAU




K
hachaturian's music is strongly stamped by the tradition of his Caucasian homeland, and consequently feels as much at home in Azerbaijan as in Georgia. His music is conventional, so catchy that, for example, the
BBC
chose the
Adagio
from Act 3 of his ballet
Spartacus
as title-music for the soap opera series "The Onedin Line", broadcast worldwide. First sketches for the Spartacus subject were already written in 1940, but completion of the ballet
Gayaneh
and the world war delayed their continuation. Not until 1952 was work on
Spartacus
finished, and in
1956 the first performance took place by the Kirov Ballet in the Kirov Theatre in Leningrad, in the choreography by Leonid Banyaminovich Jakobson. It was Khachaturian's last great work. soon after the Leningrad première doubts were
expressed about the choreography. For Moscow, lgor Moiseyev then mounted a new production in 1956, which also, however, failed to convince. In 1968,
again for Moscow, the ballet was completely newly constructed according to plans by Yuri Grigorovich for the Bolshoi Theatre. In this version
Spartacus
had worldwide success; it also forms the basis for the present recording.
Weitere Bilder