cd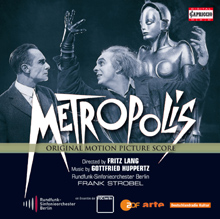 METROPOLIS
FRITZ LANG / GOTTFRIED HUPPERTZ
ORIGINAL MOTION PICTURE SCORE
C5066 · 1CD · PC: 21 UPC: 845221050669
(World Premiere Recording)
In Zusammenarbeit mit

ZDF

und

ARTE

wurde das wohl berühmteste Meisterwerk der Stummfilm-Era komplett renoviert und rekonstruiert. So sind nicht nur 22 Minuten verschollen geglaubtes Filmmaterial wieder entdeckt worden, auch die Originalpartitur der Filmmusik von Gottfried Huppertz (1887-1937) konnte ergänzt und rekonstruiert werden. Der Filmmusikexperte und Dirigent Frank Strobel liefert hiermit einen neuen, beeindruckenden Soundtrack, eingespielt mit dem Radio-Sinfonieorchester Berlin.
In Co-Operation with the German Television

ZDF

and

ARTE

this well known Masterpiece of the "Stummfilm" Era is now completely renewed as movie and as well with a completely new recorded soundtrack after the original score by the composer Gottfried Huppertz (1887-1937). Film Music Expert and conductor Frank Strobel delivers a full range and deep impressive soundtrack with the Radio-Sinfonieorchester Berlin for the new TV-, Cinema-, and CD-Version.
Weitere Bilder