cd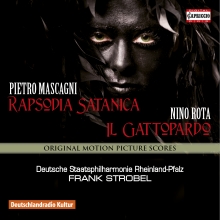 PIETRO MASCAGNI RAPSODIA SATANICA
NINO ROTA: IL GATTOPARDO
Deutsche Staatsphilharmonie Rheinland-Pfalz · Frank Strobel
C5246 PC: 21 845221052465
Pietro Mascagni's single work for the early days of cinema was composed in winter time 1914/15.
The idea of the film director Nino Oxilia was to create a "Poema cine-musicale", a synthesis of the arts with music, poetry and finally cinematography. The plot is something like a female version of "Faust", based on a poetry by Fausto Maria Martini. Mascagni itself conducted the first performance in July 1917 and orientated his composition near to Richard Wagners musical language.
The French-German TV channel Arte restored this treasure of early cinema in 2006 and recorded the
complete film music score which is now available also on CD.

Weitere Bilder