cd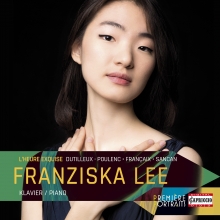 Premiere Portraits: Franziska Lee
Dutilleux · Poulenc · Francaix · Sancan
Franziska Lee, piano
C3006 PC: 01 UPC: 845221030067
Henri Dutilleux (1916 – 2013): Sonate pour piano 1947-1948
»À Geneviève Joy«
Francis Poulenc (1899 – 1963)
Suite française pour piano d'après Claude Gervaise (XVIe siècle) FP 80b 1935 »À Edouard Bourdet«
Francis Poulenc (1899 – 1963): Mélancolie Très modéré FP 105
1940 »À Raymond Destouches«
Jean Françaix (1912 – 1997): Sonate pour piano 1960 »À Idil Biret«
Francis Poulenc (1899 – 1963) Napoli – Suite pour le piano FP 40
1922-1925 »À la mémoire de Juliette Meerovich«
Pierre Sancan (1916 – 2008): Toccata Vif 1943 »À mes chers Parents«

With "Première Portraits" CD-Edition Capriccio set an example for the support of young and talented artists and invite them to release their première CD for a worldwide audience.

The South Korean pianist Franziska Lee is one of today's leading young musicians. Lee is celebrated by the press for her "artistic maturity and intelligence", her "room-filling, orchestral sound" and "emotional depth and passion".

Weitere Bilder