cd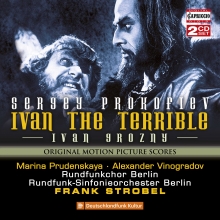 PROKOFIEV: IVAN THE TERRIBLE
- ORIGINAL MOTION PICTURE SCORES -
MARINA PRUDENSKAYA, alto · ALEXANDER VINOGRADOV, bass · RUNDFUNKCHOR BERLIN · RUNDFUNK-SINFONIEORCHESTER BERLIN · FRANK STROBEL
2CD-Set · C5311 PC: 22 UPC: 845221053110
(UDSSR 1943-1945)
Epic film by Sergej Eisenstein (1898-1948)
with Music for soli, choir and orchestra by Sergey Prokofiev op. 116
First complete new recording oft he reconstructed original score
IVAN THE TERRIBLE – the second joint project of Sergei Eisenstein and Sergei Prokofiev – is, much like ALEXANDER NEWSKI, a historical epic, portraying the rise and fall of the autocratic ruler Ivan IV in the 16th century. Sergei Prokofiev's musical portrayal is unique in film history, for the score conceives both parts of the film on an epic scale. Prokofiev's rich melodic invention thrives on the expressive sound palette of his native Russia, mostly as they echo the spiritual works of the Russian-orthodox liturgy.


Youtube
Weitere Bilder