cd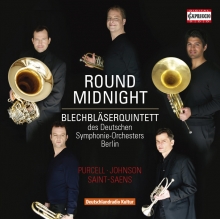 ROUND MIDNIGHT
PURCELL · JOHNSON · BÖHME · SAINT-SAENS · FAURÉ
BLECHBLÄSERQUINTETT des Deutschen Symphonie-Orchesters Berlin
C5202 PC: 21 UPC: 845221052021
HENRY PURCELL: The Fairy Queen (Overture) · ROBERT JOHNSON: The Satyr's Dance · OSKAR BÖHME: Night Music Op. 44 · CAMILLE SAINT-SAENS: Danse macabre op. 40 · ROBERT BEASER: Brass Quintet · J. MARK SCEARSE: Enchanted Forest Suite · THELONIUS MONK & COOTIE WILLIAMS: Round Midnight · BURTON LANE: Old Devil Moon · GABRIEL FAURÉ: Requiem op. 48 (Pie Jesu)
BLECHBLÄSERQUINTETT
des Deutschen Symphonie-Orchesters Berlin
FALK MAERTENS & RAPHAEL MENTZEN, Trompete / trumpet
PAOLO MENDES, Horn / horn · ANDREAS KLEIN, Posaune / Trombone · JOHANNES LIPP, Tuba
When Round Midnight was published, Thelonius Monk was an outsider due to the extravagant harmony and the complexity of his music; he cultivated this image. With this elaborate polyphony, Monk ingeniously managed to translate the Romantic 'midnight piece' into the sphere of expression of jazz. Does the music of the night not really sound tender, seeming to come from afar or surfacing from the depths of dreams? Do brass instruments present a suitable medium for such subtle adjustments of the hearing sensitivity? On their instruments, today's virtuosos even in an ensemble, attain an ease and agility that sweeps away any prejudices about the massive nature of their appearance. They show themselves to be versatile as virtuosos of mimicry, no less appropriate for fairy-like magic than for gloomy abysses and the cutting acrimony of the macabre and horrific.

Weitere Bilder