box-sets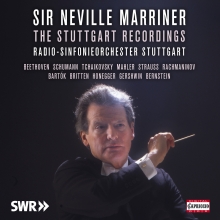 Sir Neville Marriner - The Stuttgart Recordings
BEETHOVEN SCHUMANN TCHAIKOVSKY MAHLER STRAUSS RACHMANINOV BARTOK BRITTEN HONEGGER GERSHWIN
RADIO-SINFONIEORCHESTER STUTTGART
15CD-Box C7230 PC: 07 UPC: 845221072302
CD 1 + 2 LUDWIG VAN BEETHOVEN: Overtures
CD 3 – 5 ROBERT SCHUMANN
Symphonies Nos. 1 – 4 · "Zwickauer" · Manfred Overture
CD 6 – 7 PETER TCHAIKOVSKY: Orchestral Suites 1-4
CD 8 GUSTAV MAHLER: Symphony No. 4
CD 9 – 10 RICHARD STRAUSS
Don Juan · Till Eulenspiegel · Capriccio · Rosenkavalier-Suite
CD 11 SERGE RACHMANINOV: Symphony No. 2· Vocalise
CD 12 BELA BARTOK: Der wunderbare Mandarin
CD 13 BENJAMIN BRITTEN: Sinfonietta op. 1 · Sinfonia da Requiem
ARTHUR HONEGGER: Sinfonie Nr. 3 "Liturgique"
CD 14 GEORGE GERSHWIN
Rhapsody in Blue · Piano Concerto in F · An American In Paris
CD 15 BARBER · COPLAND · GERSHWIN · BERNSTEIN
In Stuttgart, 1983 – 1989,Neville Marriner followed Sergiu Celibidache, offering quite the contrast to that willfully prodigious Romanian broodingly charismatic style with his own easygoing, less spectacular but genial manner and music-making. His sound wasn't as dense and carefully crafted, but the ensemble's playing became lighter and flexible, agile rather than probing. It is in his Stuttgart period that Marriner increasingly focused on repertoire that went beyond the baroque and classical periods. This compilation offers repertoire which music lovers will be less likely to associate with Marriner: German romanticism, including all of Schumann's Symphonies, Richard Strauss, Tchaikovsky and Rachmaninoff, Mahler, Bartók and Gershwin – The fundamental impression that comes from re-listening to these performances, apart from good and fresh music-making, is one of sympatheticmusic-making. That feels about right as an epitaph for the man and his body of work.

Weitere Bilder