cd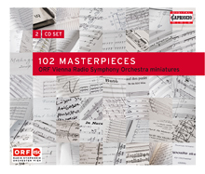 SPECIAL BIRTHDAY RELEASE
<a href="http://rso.orf.at">rso.orf.at</a>

C5051 · 2CD PC: 22 UPC: 845221050515
... to put it in a nutshell
Miniaturen sind keine der Musik für Orchester eingeschriebene Kunstform: Zu viele Musikerinnen und Musiker, Dirigent, Dirigentin, Solist, Solistin, der organisatorische Apparat, vielleicht auch zu viel Erwartung des Konzertpublikums für bloß 40 oder 60 oder 80 Sekunden Musik. Miniaturen für Orchester von jenen Künstlerinnen und Künstlern sich auch nur vorzustellen, die mit diesem Apparat, die mit diesem kollektiven Instrument umgehen, das ist wie Aphorismen von Romanschriftstellern zu erwarten. Doch die jeweils eine Minute von Friedrich Cerha, Olga Neuwirth, Hermann Nitsch oder vielen anderen ist eben nicht bloß eine kurze Minute Musik dieser Persönlichkeiten, sondern ist erfahrbar wie ein Konzentrat aus dem Kunstwollen dieser Komponierenden, kondensiert fast ein Lebenswerk in eine akustische Visitenkarte, schafft, was in der angloamerikanischen Welt so schön kurz heißt: to put in a nutshell.
Das RSO Wien hatte aus Anlass eines Jubiläums Komponistinnen und Komponisten in und aus Österreich um jeweils eine Miniatur gebeten. Genau gesagt war es anders: Wir hatten um (circa) 40 Sekunden zum 40. Geburtstag zu fragen gewagt, als ein Geschenk, und waren glücklich und überrascht, wie viele der Komponierenden dieses Landes sich daran beteiligten. Über die Jubiläumssaison 09/10 hinweg produzierte das RSO 102 Orchesterminiaturen, von A bis Z, wie Ablinger bis Zabelka, durchwegs für diesen Anlass geschriebene, ausgewählte, re- oder dekonstruierte Orchesterminiaturen, zeitlich Kleines für instrumental Großes, Aphorismen für Orchester eben, ein Mosaik aus österreichischen Stimmen und Klängen und Klangstrukturen, ein Panoptikum – übrigens monatelang so etwas wie der geheime Kommandoname dieses Unterfangens – von glitzernden und schillernden Klangbausteinen, ein Panoptikum im alten Sinn des Wortes, also eine Sammlung von seltsamen aber bemerkenswerten Petitessen, ein abgeschlossenes Mini-Universum jedes für sich, ein Kosmos von umeinander kreisenden Planeten als Ganzes gesehen.
Christian Scheib
... to put it in a nutshell
Miniatures are no art form predestined for orchestral music: Too many musicians, conductors, soloists, arrangements, perhaps also too much anticipation by the audience for just 40 or 60 or 80 seconds. Only to imagine miniatures for orchestra by artists who work with this apparatus, this collective instrument, is like expecting novelists to come up with aphorisms. However, this one minute of music by Friedich Cerha, Olga Neuwirth, Hermann Nitsch and by many others is not only a brief minute of music written by these personalities, but is tangible like the concentrate of the artistic work of these composers, almost a condensed life's work on an acoustic business card, it creates, what the Anglo-American world concisely calls: to put in a nutshell.
On the occasion of a jubilee the RSO Wien asked composers from Austria and in Austria for a miniature each. Strictly speaking it was different: We did dare to ask for (approximately) 40 seconds of music for our 40th birthday and were surprised how many composers of this country joined in. During the jubilee-season 09/10 the RSO produced 102 miniatures for orchestra, from A to Z, from Ablinger to Zabelka, throughout written for the occasion, selected re- or deconstructed miniatures for orchestra, temporally short pieces for a large orchestra, simply aphorisms for orchestra, a mosaic of Austrian voices and sounds and tonal structures, a Panopticum – by the way, for several months this was the unofficial name of this endeavour – from twinkling and shimmering sound modules, a Panopticum in the old sense of the word, thus, a collection of curious but remarkable trifles, a secluded mini-universe each for itself, a cosmos of circling planets when viewed as a whole.
Christian Scheib
PETER

ABLINGER: Suprematistische Geschichte 1

KLAUS

AGER: "Geo Mah Ramson" für großes Orchester

OSKAR

AICHINGER: Finalfragment aus der Kammeroper "Der entwendete Taler"

LUNA

ALCALAY: Ausschnitt aus "sphygmogram" für großes Orchester

ALIEN

PRODUCTIONS: Das

RSO

spielt den Tarzanschrei

MICHAEL

AMANN: "Many Happy Returns!" für großes Orchester

THOMAS

AMANN: "composite sketch"

PETER

ANDROSCH: 40 Sekunden für das RSO

RAINER

BISCHOF: "Invention über den Mutterakkord" für großes Orchester

FRANCIS

BURT: Ausschnitt aus "Morgana" für Orchester

CHRISTOPH

CECH: IO – Klimaxfragment

FRIEDRICH

CERHA: Ausschnitt (Nr. 1) aus "Momente" für Orchester

CHAYA

CZERNOWIN: Ausschnitt aus "Maim"

DIRK

D'ASE: "Gegenwartssplitter" für Orchester

RENALD

DEPPE: Con Vuzius

CHRISTIAN

DIENDORFER: "Double Lights" für großes Orchester

CHRISTOPH

DIENZ: "more fire" – miniatur für orchester

JOHANNA

DODERER: 40 Sekunden Orchesterfragment aus dem "Wutmarsch"

RICHARD

DÜNSER: Ausschnitt aus "Der Wanderer. Hymne für Orchester"

PAUL

ENGEL: Ausschnitt aus "Sirius" für großes Orchester

IVAN

ERÖD: Zwischenspiel aus der Oper "Orpheus ex Machina"

KARLHEINZ

ESSL: "Detune" für Oboe und großes Orchester

CHRISTIAN

FENNESZ: Ausschnitt aus "Glide" (Orchestrierung: Gottfried Rabl)

ROLAND

FREISITZER: "Crazy Chicken Run" für Viola und Orchester

REINHARD

FUCHS: Ausschnitt aus "streut licht | an den bebenden rändern"

BEAT

FURRER: Ausschnitt aus "Apon"

PAUL

WALTER

FÜRST: Farbspiele-Fragment

CLEMENS

GADENSTÄTTER: "Jingle 3"

BERNHARD

GANDER: Ausschnitt aus "lovely monster" für Orchester

HEINRICH

GATTERMEYER: Scherzo aus der AMADEUS-Symphonie

ERIN

GEE: Mouthpiece IX (parallel version)

HEINZ

KARL

GRUBER: Ausschnitt aus "Herr Supermann" aus "Frankenstein!!"

GEORG

FRIEDRICH

HAAS: 40 Sekunden für das

RSO

Wien

ELISABETH

HARNIK: superschwärmen

HANNES

HEHER: Radio-Sinfonie-Orchester-Stück (

R-S-O-S

)

THOMAS

HEINISCH: "Glühender Stern". 12 Takte für Orchester

PAUL

HERTEL: Ausschnitt aus "Hotel Metropol – Moskau", Nr. 3 aus: "Drei Orchesterstücke aus der Emigration"

PETER

JAKOBER: pulsen – eine miniatur

ROBERT

JELINEK

/ Thilges: Sabotage Burning Bright

RUDOLF

JUNGWIRTH: bruchstück aus "UNDINEN" – dritter satz aus der sinfonie für orchester "VIER"

ALEXANDRA

KARASTOYANOVA-HERMENTIN: Ausschnitt aus "Mahagoni. Concerto for Violin and String Chamber Orchestra"

DIETER

KAUFMANN: "Göre" aus der Oper "Freier Fall" ("40 Sekunden fürs RSO")

MANUELA

KERER: Nastro ballante – Tanzend rollendes Geschenksband

KATHARINA

KLEMENT: "cows caused chaos" für Kammerorchester

FRANZ

KOGLMANN: "The Model"

MATTHIAS

KRANEBITTER: "Symphonie 3000 in C-Dur" für Orchester

JOHANNES

KRETZ: RSO40 for orchestra

GERD

KÜHR: Klangsplitter für großes Orchester

BERNHARD

LANG: Ausschnitt aus "/Monadology II/" (Introduktion: "...eine traurige Gestalt")

KLAUS

LANG: "fette und schnelle kühe" für großes orchester

THOMAS

LARCHER: Ausschnitt aus: "Böse Zellen" für Klavier und Orchester

HERBERT

LAUERMANN: Ausschnitt aus "PhantasY on mE" für Orchester

MARTIN

LICHTFUSS: "In Nuce" für kleines Orchester

WOLFGANG

LIEBHART: Pre©lude for full orchestra

RADU

MALFATTI: Orchesterklang

WOLFGANG

MITTERER: Ausschnitt aus "fisis"

CHRISTIAN

MÜHLBACHER: Drumming Orchestra X (...aus dem Konzert für Schlagwerk und Orchester)

CHRISTIAN

MUTHSPIEL: Fundstück Nr. 2 aus "Pas de deux concertant"

BERTL

MÜTTER: minütenminiatüre – Fürs

RSO

, den Mercedes unter den Orchestern Neuer Musik
GÖ

STA

NEUWIRTH: "Planctus V" für Orchester

OLGA

NEUWIRTH: "only an end"

HERMANN

NITSCH: Ausschnitt aus "Symphonie Nr. 9 (Die Ägyptische)"

GEORG

NUSSBAUMER: RING!

CHRISTIAN

OFENBAUER: 1. Frankfurter Prélude / Zwei Kraniche und Wolken

MAJA

OSOJNIK: "little dream machine"

THOMAS

PERNES: Ausschnitt aus "Gleichsam eine Symphonie"

ALFRED

PESCHEK: "Vivivision" aus "Visionen für großes Orchester"

GABRIELE

PROY: "Ereso" für großes Orchester

JULIA

PURGINA: ...croaky cherrytree…

MICHAEL

RADANOVICS: "the best days of my live…" 40 seconds for 40 years

RSO

Vienna

WERNER

RADITSCHNIG: Die Zukunft des Orchesters. Ein Werbespot

KONRAD

RENNERT: "Excerpt Fraktur V – 9. November"

GERALD

RESCH: "ein Stück LAND" für Orchester

HANS-JOACHIM

ROEDELIUS: DANN für fünf Instrumente

GERHARD

RÜHM: "Mein Steckenpferd" für Gesang und Orchester (Orchestrierung: Gottfried Rabl)

JORGE

SÁNCHEZ-CHIONG: Verdammt sei, wer dieses Orchester auflöst! (kein Abschieds-Mambo)

ELISABETH

SCHIMANA: Taktfrequenz

THOMAS

DANIEL

SCHLEE: Ausschnitt aus "Spes unica" für großes Orchester

WOLFGANG

SCHLÖGL: "Do you want my M E L stock now?" (excerpt) aus dem orchestralen Themenzyklus "Broker's Paradise"

GUNTER

SCHNEIDER: "auf den punkt" für Orchester ("für das

RSO

Wien")

KURT

SCHWERTSIK: Ausschnitt aus "Instant Music" für Flöte und Blasorchester

AXEL

SEIDELMANN: Moloch – Epigramm für großes Orchester

WOLFGANG

SEIERL: "3g_1a" für Orchester
SHIH: Ausschnitt aus "Requiem" für Klavier, Streicher und Membranophon

ANDREA

SODOMKA: FOREVER für Orchester, live-electronic und das www
RENÉ STAAR: Balkan Mosaik (Orchesterfassung): II. "Würfelspiel in Skopje"

BURKHARD

STANGL: concept piece no. 40

ALEXANDER

STANKOVSKI: "Klippen" für Orchester

JOHANNES

MARIA

STAUD: Eine Ecke aus dem Polygon

BRUNO

STROBL: Ausschnitt aus "Ülapp" für großes Orchester

BALDUIN

SULZER: "Obderennsisches Epigramm" für Streichorchester, Fagott und Glockenspiel

WOLFGANG

SUPPAN: Butô. Miniatur für Orchester

GERMAN

TORO-PERÉZ: "veRSO" für großes Orchester

ERICH

URBANNER: Ausschnitt aus "Multiphonie" für großes Orchester

NANCY

VAN

DE VATE: Abschied von Tschernobyl

ALEXANDER

WAGENDRISTEL: "fortune cookie" für großes Orchester

WOLFRAM

WAGNER: Ausschnitt aus "Symphonia" für großes Orchester

HERBERT

WILLI: Ausschnitt aus dem Trompetenkonzert "Eirene" (aus dem Zyklus "Montafon")

GERHARD

E. Winkler: Splitter aus "Kataklast"

MANON-LIU

WINTER: "2. Wiener Blut, 09"

JOANA

WOZNY: "break off" für großes Orchester

MIA

ZABELKA: Organische Trennung