cd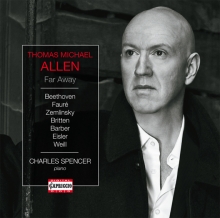 THOMAS MICHAEL ALLEN: Far Away
Beethoven · Fauré · Zemlinsky · Britten · Barber · Eisler · Weill
Charles Spencer, piano
C5194 PC: 21 845221051949





Ludwig van Beethoven: An die ferne Geliebte Op. 98
Gabriel Fauré: Mélodies de Venise Op. 58
Alexander von Zemlinsky Walzer-Gesänge nach Toskanischen Volksliedern von
Ferdinand Gregorovius Op. 6
Benjamin Britten: Seven Sonnets of Michelangelo Op. 22
Samuel Barber: Mélodies passagères Op. 27
Hans Eisler: Songs from the Hollywood Songbook
Kurt Weill: Street Scene: "Lonely House" · Lady in the Dark: "My Ship"
Love Life: "Here I'll Stay"

THOMAS MICHAEL ALLEN, Tenor / tenor
CHARLES SPENCER, Klavier / piano

"The general theme of this recording," observes tenor Thomas Michael Allen, "is of things far away and a sense of being out of place, especially in terms of composers setting texts in languages not their own, or texts about places far from them; a longing for, or fascination with, foreign things or foreign styles." Indeed, Far Away includes songs by four European composers who were living, or would live, in the United States; an American setting French poems written by an Austrian; a French composer imagining eighteenth-century Italy; and a German in Vienna writing of a man's longing for his distant beloved. Mr. Allen, too, is "far away." The American singer has lived and worked in Germany since 1995. The funny thing is that I don't really feel like I completely fit in here either, but at least here my role is clear: I'm a foreigner." Estrangement takes many forms.

Weitere Bilder