dvd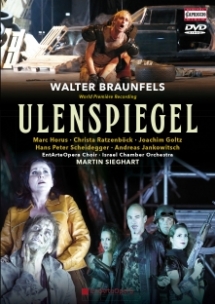 WALTER BRAUNFELS
ULENSPIEGEL Opera in 3 acts · Complete Recording
Marc Horus · Christa Ratzenböck · Joachim Goltz · Andreas Jankowitsch · Israel Chamber Orchestra · Martin Sieghart · INSZENIERUNG / DIRECTOR: Roland Schwab
1DVD · C9006 PC: 31 UPC: 845221090061







Till Ulenspiegel // Marc Horus · Nele // Christa Ratzenböck
Profoss // Joachim Goltz · Klas // Hans Peter Scheidegger
Jost / Schuster // Andreas Jankowitsch
Bürgermeister / 1. Ablasspriester // Tomas Kovacic· Schreiner / Arkebusier // Martin Summer
EntArteOpera Chorus · Israel Chamber Orchestra
Martin Sieghart (Dirigent / conductor
DIRECTOR: Roland Schwab
STAGE AND COSTUME DESIGN: Susanne Thomasberger
LIGHT DESIGN: Roman Hauser, Jan Derschmidt

PICTURE FORMAT: NTSC / Colour / 16:9
SOUND FORMATS 2.0 Stereo · 5.1 Surround
SUBTITLES: Deutsch / English

Charles de Coster, whose novel Thyl Ulenspiegel provided the source for Braunfels' opera, narrates one of the gloomiest chapters in human history, the
Spanish Inquisition in 16th-century Flanders, via the very figure of a world-famous clown. He depicts an apocalyptic panorama, in which the Seven Deadly Sins of the Bible, like the riders of the Apocalypse, befall the last remnants of mankind. In this world of downfall, the composer Walter Braunfels sets his focus on the origins and development of resistance in general. Ulenspiegel becomes the trenchant case study of an apolitical daredevil who undergoes a radical personal transformation as a result of the terror befalling his family. Promoted to become the leader of political resistance, his mind only knows one thing: all-encompassing revenge.

Weitere Bilder