cd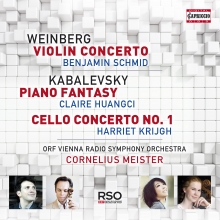 WEINBERG: Violin Concerto KABALEVSKY: Piano Fantasy · Cello Concerto
BENJAMIN SCHMID · CLAIRE HUANGCI · HARRIET KRIJGH
ORF VIENNA RADIO SYMPHONY ORCHESTRA · CORNELIUS MEISTER
C5310 PC: 21 UPC: 845221053103
MIECZYSŁAW

WEINBERG

(1919 – 1996)
Concerto for violin and orchestra, op. 67 (1959)


DMITRY

KABALEVSKY

(1904 – 1987)
Fantasy in F minor for piano and orchestra (after Schubert D 940)(1961)
Concerto for cello and orchestra no. 1 in G minor, op. 49
Dmitry Kabalevsky – despite the vague name recognition a widely unknown composer of socialist-realist music – has rightly been forgotten, if only because of his actively unsavory, toadying, opportunist politics that netted him three Stalin Prizes and four Orders of Lenin. He was chummy with the Russian Association of Proletarian Musicians when that seemed expedient and later a very active member of the Union of Soviet Composers. Weinberg is the exact opposite of Kabalevsky, politically and musically. He was a life-long victim of the Soviet Union and his music is – some genuine incidences of humor apart – a dense shot of genius that makes breathing difficult, not easy. With this Album Capriccio presents with a famous cast the music of two nearly forgotten Russian Masters their music and biography could not be more different.
Youtube
Weitere Bilder