releases
2022 Releases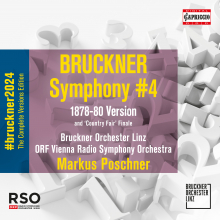 Symphony No. 4 (1878-1880) 'Romantic' · 'Country Fair' Finale (1878)
BRUCKNER ORCHESTER LINZ · ORF VIENNA RADIO SYMPHONY ORCHESTRA · Markus Poschner
C8083 PC: 21 UPC: 845221080833
This Complete Versions Edition includes all versions published or to be published under the auspices of the Austrian National Library and the International Bruckner Society in the Neue Anton Bruckner Gesamtausgabe (The New Anton Bruckner Complete Edition)
"I am completely convinced that my Fourth Romantic Symphony is in pressing need of a thorough revision." (Anton Bruckner, 1877). Since its successful first performance by the Vienna Philharmonic under Hans Richter on February 20th, 1881, the Fourth Symphony has been one of Anton Bruckner's most beloved works. The success of the Fourth did not come easily to the composer as he revised the entire symphony twice and its finale three times. The present recording features the second and most often performed version in a new edition by Benjamin Korstvedt, published as part of the New Anton Bruckner Collected Works Edition. It also includes Korstvedt's edition of the "Country Fair" (Volksfest) Finale that Bruckner composed in 1878 and replaced in 1880.

Weitere Bilder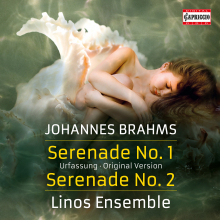 Serenade No. 1 in D major (Original Version) · Serenade No. 2 in A major
LINOS ENSEMBLE
C5447 PC: 21 UPC: 845221054476
Brahms is famous for his symphonies and grand concertos. But many Brahms-lovers would argue he shines brightest in chamber works. And indeed, there is almost no work of Brahms' that did not start out as chamber music, including his Serenade No.1, which began life as a nonet. It is presented here by the Linos Ensemble in its reconstructed original form. For his second Serenade, Brahms stuck with the chamber orchestra-sized ensemble from the get-go. Clara Schumann approved: "What could I possibly tell you about the Adagio? I feel as if there were no words for the sheer joy that this piece brings me. It's marvelously beautiful!"

Weitere Bilder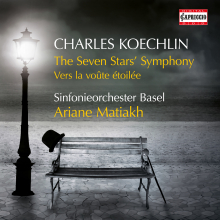 The Seven Stars' Symphony, Op.132 (1933) · Vers la voûte étoilée, Op. 129
SINFONIEORCHESTER BASEL · ARIANE MATIAKH
C5449 PC: 21 UPC: 845221054490
Music by the marvelous, criminally underrated composer and "Aural Alchemist" Charles Koechlin is always a discovery and invariably. "Koechlin can daub with notes as Seurat daubed with bright pigments on canvas [he] could, whenever he wished, bathe his music in the impressionist glories of Debussy and Ravel or give it the delicacy of Fauré and then toughen it up with some Roussel-like grinding rhythms." (Robert Reilly) He is an impressionist dreamboat. With a title like The Seven Stars Symphony and following so closely on the heels of the equally enchanting Vers la voûte étoilée (Toward the Vault of the Stars), you'd think the work was some spectacular colorist bonanza of celestial ambitions. Actually, it's Koechlin's ode to his favorite film stars – but no less bewitching for that.

Weitere Bilder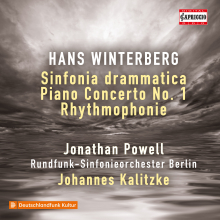 (1901-1991) 'Sinfonia drammatica' · Piano Concerto No. 1 · Rhythmophonie
Jonathan Powell · Rundfunk-Sinfonieorchester Berlin · Johannes Kalitzke
C5476 PC: 21 UPC: 845221054766
Hans Winterberg grew up in Prague where he was one of a whole cadre of composers in the new Czech musical tradition. He is one of the few Jewish composers who survived the terror of World War II. His tale of survival is complicated and involved him, as a Czech Jew, having to seek refuge in post-war Germany, whereas contemporaries and colleagues like Viktor Ullmann, Erwin Schulhoff, and Hans Krása died in the concentration camps. He saw his music as "a bridge" between the Slavic East and the West and admitted at one point that his musical starting point was Schoenberg. Audibly more present than Schoenberg, however, is a central European Impressionism, synthesized with complex rhythms.

Weitere Bilder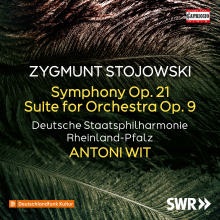 Symphony in D minor, Op. 21 · Suite for Orchestra, Op. 9
DEUTSCHE STAATSPHILHARMONIE RHEINLAND-PFALZ · ANTONI WIT
C5464 PC: 21 UPC: 845221054643
Sinfonie d-Moll op. 21 (1898)
Symphony in D minor, Op. 21

Suite für Orchester Es-Dur op. 9 (1891)
Suite for Orchestra in E flat major, Op. 9
(Hommage à Hans von Bülow)



DEUTSCHE

STAATSPHILHARMONIE

RHEINLAND

-

PFALZ




ANTONI

WIT

, Dirigent / conductor
You might consider him one of the many Missing Links between Frédéric Chopin and Karol Szymanowski, who shaped Polish music between the second half of the 19th century and the dawn of modernism… but somehow never entered the repertoire. We are dealing with a composer of the high, late-romantic tradition – a style that Stojowski never found any reason to reject and with a strong gift for melody. His work proves the composer's deft hand at colorful instrumentation, which suggests Russian and French influences. Entering the U.S. in 1905, he enjoyed a fine reputation as a composer, pianist, and increasingly pedagogue but his lack of presence on the continent meant that Stojowski faded into obscurity.
Weitere Bilder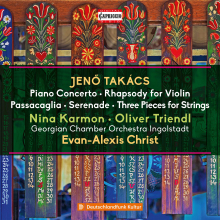 Serenade Op. 83b · Piano Concerto, Op. 73 · American Rhapsody
Oliver Triendl · Nina Kamon · Georgian Chamber Orchestra Ingolstadt · Evan-Alexis Christ
C5438 PC: 21 UPC: 845221054384
JENÖ TAKÁCS (1902-2005)

Serenade after ancient Contredanses from Graz, Op. 83b for strings
Rhapsody for violin and strings, Op. 49a 'Hungarian Tunes'
Concerto for piano, strings and percussion, Op. 60
Passacaglia for strings, Op. 73
Three Pieces for Strings (1993)
NINA KARMON, Violine / violin· OLIVER TRIENDL, Klavier / piano
GEORGIAN CHAMBER ORCHESTRA INGOLSTADT
EVAN-ALEXIS CHRIST, Dirigent / conductor
His works have accompanied generations of beginner instrumental students on their first foray into contemporary music. But also with his works like the Concerto for Piano, Strings, and Percussion Jenö Takács clearly placed himself in a line with the great paragons Béla Bartók and Zoltán Kodály. Getting to know Bártok further increased the Hungarian element (topicality, rhythm, bitonality) in his compositions. With the impressionist coloring and the influences of Hungarian folk music studying with Joseph Marx added a strict contrapuntal note to his works. Jenö Takács was a humanist, a 'musical cosmopolitan', an eyewitness of almost the entire 20th century.
Weitere Bilder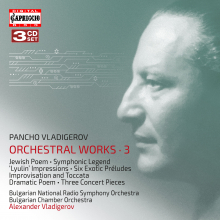 Jewish Poem · 'Lyulin' Impressions · Six Exotic Préludes
BULGARIAN NATIONAL RADIO SYMPHONY ORCHESTRA · ALEXANDER VLADIGEROV
3CD-SET · C8056 PC: 22 UPC: 845221080567
COMPACT DISC 1
"Ljulin" Impressionen - Suite für grosses Orchester op. 63 (1972)
'Lyulin' Impressions - Suite for large orchestra, Op. 63
Jüdisches Poem / Jewish Poem, Op. 47 (1949)
Sechs symphonische Novelletten Op. 59/60 (1964/65)
Six Symphonic Novelettes. op. 59/60
Dramatisches Poem, Op. 52 / Dramatic Poem, op. 52 (1956)

COMPACT DISC 2
Sechs exotische Präludien, op.17 / Six Exotic Préludes, Op. 17 (1924)
Drei konzertante Stücke, op. 57 / Three Concert Pieces, Op. 57 (1959/60)
Improvisation und Toccata für Orchester, op. 36a (1941/42)
Improvisation and Toccata for Orchestra, Op. 36a

COMPACT DISC 3
Drei Impressionen für Orchester, op.9 (1920)
Three Impressions for Orchestra, Op. 9
''Einsamkeit'' / 'Solitude' – Prelude op. 10 Nr. 3 (1929/56)
Drei Stücke für Streichorchester / Three pieces for string orchestra
Symphonische Legende, op. 8 / Symphonic Legend, Op. 8 (1919)

From the diversity of Bulgarian musical culture Pancho Vladigerov stands out as undoubtedly the most important composer for the musical self-conception of modern Bulgaria. As the mentor of generations of Bulgarian composers in the 20th century, up to now he has formed a salient figure in the music life of his country. Revered as a living legend, he was in a position to continue his work largely unaffected by the demands of the Communist regime, although his musical diction, based on late Romantic tradition and keynote-related tonality, would hardly have provoked any reprisals anyway. With these recordings, produced in the 1970s in Bulgaria, Capriccio releases an 18CD Vladigerov-Edition to preserve this colourful music also for the next generations.
Weitere Bilder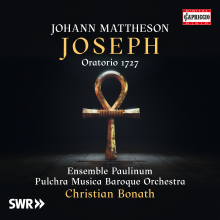 JOSEPH (Oratorio)
Ensemble Paulinum · Pulchra Musica Baroque Orchestra · Christian Bonath
C5448 PC: 21 UPC: 845221054483
In 1715 Johann Mattheson became music director at Hamburg Cathedral and took advantage of the opportunity to mix sacred music with theatrical style. In his 13 years of service he wrote 24 oratorios for high holidays and lent. The exquisite musical quality of the piece is impressive. The vocal parts are demanding throughout, they were, after all, written for the soloists of Hamburg's Oper am Gänsemarkt, that first-rate musical institution and first 'German-speaking' opera house to which other baroque greats like Haendel, Graupner, and Kaiser were also contributing at the time. The work, which the libretto designates an "oratorio", was first performed in 1727 under the composer's direction.

Weitere Bilder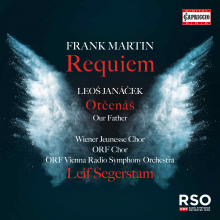 Requiem (1971/1972) · LEOŠ JANÁČEK: OTČENÁŠ
Marsh · Bollen · Ahnsjö · Zednik · Holl · Wiener Jeunesse Chor · ORF Vienna Radio Symphony Orchestra · Leif Segerstam
C5454 PC: 21 UPC: 845221054544

/
/
[1] – [8]
FRANK MARTIN (1890-1974)
REQUIEM
für 4 Solostimmen, Chor, Orchester und Orgel (1971/72)
for 4 soloists, chorus, orchestra and organ
Jane Marsh, Sopran / soprano · Ria Bollen, Alt / alto
Claes H. Ahnsjö, Tenor / tenor · Robert Holl, Bass / bass
WIENER JEUNESSE CHOR
Rudolf Scholz, Orgel / organ
ORF VIENNA RADIO SYMPHONY ORCHESTRA

[9] – [13]
LEOŠ JANÁČEK (1854-1928)
OTČENÁŠ (OUR FATHER)
für Tenorsolo, Chor, Orgel und Harfe JW IV/29
for tenor, chorus, organ and harp
Heinz Zednik, Tenor / tenor · Arcola Clark, Harfe / harp · ORF CHOR
Rudolf Scholz, Orgel / organ
LEIF SEGERSTAM, Dirigent / conductor
Two treasuries out of the ORF Archive (Austria Broadcasting Corporation):
It took Frank Martin a long time to heed his deep-seated inner calling to write a Requiem:
'What I have tried to express here is the clear will to accept death; to make peace with it.' The Requiem was composed in 1971/72, Martin utilizes the whole bandwidth of orchestral sound and explores all opportunities for interplay among the vocalists, as well. Leoš Janáček's setting of the Otčenáš, the Lord's Prayer, is not a conventionally religious work. The Czech composer was more interested in its social aspects than any theological musings. Conductor Leif Segerstam, Chief conductor of ORF Vienna radio Symphony Orchestra from 1975-1983 loved to surprise his public with non-mainstream repertoire. Two of these live recordings are now restored, re-mastered and first time published for the future.


Weitere Bilder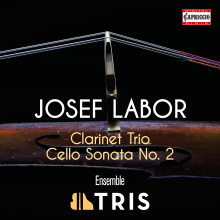 Clarinet Trio in E minor · Cello Sonata No. 2
Ensemble Tris
C5446 PC: 21 UPC: 845221054469
Jörg Wachsenegger, Klarinette / clarinet
Gerhard Waiz, Violoncello / cello · Holger Busch, Klavier / piano
A total of around eighty compositions of Joseph Labor have survived. Among them are practically no occasional works, which is connected to the fact that he was blind: for him composition was a luxury, insofar as he had to rely on the help of a scribe who had to commit the work to paper. Labor's music is very skillfully composed, always sensuous, and first and foremost melodious; it does not require a too complete concentration on itself. In Vienna, Labor was part of Johannes Brahms's close circle of friends. This is already the third CD Release with this sensitive Chamber Music of an mostly forgotten composer.


Weitere Bilder
Blueprint - Music for Jazz Trio
Frank Dupree, piano · Jakob Krupp, bass · Meinhard "Obi" Jenne, drums
C5439 PC: 21 UPC: 845221054391
"Kapustin uses jazz as his musical language and then composes quasi-improvisations that sound as though they stemmed right from Oscar Peterson's or Erroll Garner's fingers. He is one of the few who were able to have the strictures of composition and liberty of improvisation come together to such an organic whole." – Frank Dupree
Following his first successful release featuring the Fourth Piano Concerto and the Concerto for Violin, Piano and Strings by the Russian composer Nikolai Kapustin (Capriccio C5437), Frank Dupree presents a selection of the little-known master's works for solo piano, performed as originally written, while bassist Jakob Krupp and drummer Obi Jenne improvise around him. There is surely no better example of jazz poured so expertly into a classical mould.

Weitere Bilder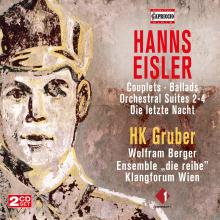 Couplets · Ballads · Orchestral Suites · Die letzte Nacht
HK Gruber · Wolfram Berger · Klangforum Wien · Ensemble 'die reihe'
2CD C5434 PC: 22 UPC: 845221054346
"It would be worth striving towards a style that can combine the highest level of craftsmanship, originality, and high quality with the greatest popularity and folksiness." – Hanns Eisler
This latest release in Capriccio's Hanns Eisler Edition contains songs and chansons from all periods of Eisler's creative life. It also contains some of the fascinating orchestral suites that he had mostly assembled as adaptations of film scores from the 1930s. Notably, the programme contains the world premiere recording of his incidental music for Die letzte Nacht – the epilogue to Karl Kraus' monumental, satirical work The Last Days of Mankind. The mastermind behind this project was the great composer, conductor, and chansonnier HK Gruber, arguably one of the greatest authorities on Eisler.

Weitere Bilder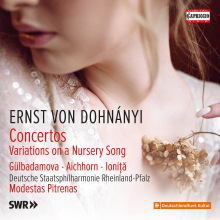 Variations on a Nursery Song · Harp Concertino · Konzertstück for cello
Sofja Gülbadamova · Silke Aichhorn · Andrei Ioniţă · Deutsche Staatsphilharmonie Rheinland-Pfalz · Modestas Pitrenas
C5463 PC: 21 UPC: 845221054636
[1] – [14]
Variationen über ein Kinderlied für Klavier und Orchester op. 25 (1914)
Variations on a Nursery Song for piano and orchestra, Op. 25
[15] – [17]
Concertino für Harfe und Kammerorchester op. 45 (1952)
Concertino for Harp and Chamber orchestra, Op. 45
[18] – [20]
Konzertstück D-Dur für Violoncello und Orchester op. 12 (1904)
Konzertstück in D major for cello and orchestra, Op. 12

Sofja Gülbadamova, Klavier / piano (1-14) · Silke Aichhorn, Harfe / harp (15-17)
Andrei Ioniţă,Violoncello / cello (18-20)
Deutsche Staatsphilharmonie Rheinland-Pfalz
Modestas Pitrėnas, Dirigent / conductor
Of the works Ernst von Dohnányi wrote for the stage, only his ballet pantomime The Veil of Pierrette (Capriccio-CD C5388) receive any particular acclaim. His concert music, meanwhile, was much more warmly received. With this already sixth recording of his late romantical, sensual music, deeply rooted in the Austro-German classical tradition, Capriccio presents three of his concerts. Apart from two piano concertos and two violin concertos, Ernst von Dohnányi wrote three more, which are concertos in all but name Variations (for piano and orchestra), Concertino (for harp and chamber orchestra), and Konzertstück (for cello and orchestra); the names subtly hinting at their specific character.

Weitere Bilder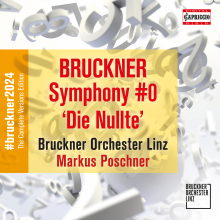 Symphony in D minor ('Die Nullte')WAB 100
BRUCKNER ORCHESTER LINZ Markus Poschner
C8082 PC: 21 UPC: 845221080826
The most comprehensive Bruckner Symphonies cycle, including all 19 available versions.
This third release of Capriccios Bruckner Edition, of Symphony in D minor ("Nullified") is performed by Bruckner Orchestra Linz conducted by Markus Poschner.
Although the work did not belong to the corpus of nine numbered symphonies which the composer had identified in his will as worthy of preservation in the imperial library, and for which he is best remembered, he did not destroy it. Hoping perhaps, to ensure that future generations would assess the symphony in what he considered its proper perspective, he wrote annotations at various places in the manuscript: "invalid" [ungiltig] "completely void" [ganz nichtig] and "annulled" [annulirt]. This new complete Bruckner Symphonies edition from Capriccio reassesses these enduringly enigmatic and complex works. Presented by the Bruckner Orchestra Linz and the ORF Vienna Radio Symphony Orchestra, and featuring all 19 available versions, the cycle is scheduled for completion in 2024, Bruckner's 200th birthday.

Weitere Bilder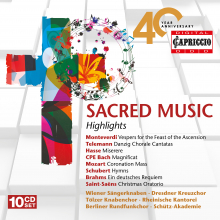 10 Complete Recordings Remastered
Vienna Boys' Choir · Rheinische Kantorei · Dresdner Kreuzchor · Rostocker Motettenchor · Hermann Max · martin Flämig · Howard Arman
10CD-Set C7377 PC: 07 UPC: 845221073774

CD 1
Caudio Monteverdi: Vesper zum Fest Christi Himmelfahrt
Vespers for the Feast of the Ascension
Schütz-Akademie · Howard Arman
CD 2:
Heinrich Schütz: Kleine Geistliche Konzerte / Little Sacred Concertos SWV 282-304
Tölzer Knabenchor / Tölz Boys' Choir · Gerhard Schmidt-Gaden
CD 3:
Johann Sebastian Bach: Motetten / Motets BWV 225-230
Rostocker Motettenchor · Hartwig Eschenburg
CD 4:
Georg Philipp Telemann: Danziger Choralkantaten / Danzig Chorale Cantatas
Rheinische Kantorei · Das Kleine Konzert · Hermann Max
CD 5
Carl Philipp Emanuel Bach: Magnificat · Johann Christian Bach: Tantum ergo · Magnificat
Dresdner Kammerchor · La Stagione · Michael Schneider
CD 6
Sacred Choral Music Of The Dresden Baroque'
Jan Dismas Zelenka: Miserere · Johann Adolph Hasse: Miserere
Johann David Heinichen: Magnificat · Gottfried August Homilius: Cantata
Rheinische Kantorei · Das Kleine Konzert · Hermann Max
CD 7:
Wolfgang Amadeus Mozart: Krönungsmesse / Coronation Mass
Johann Sebastian Bach: Cantata BWV 21
Wiener Sängerknaben / Vienna Boys' Choir · Stuttgarter Philharmoniker · Peter Marschik
CD 8
Franz Schubert: Hymnen / Hymns
Peter Schreier · Berliner Rundfunkchor · Berlin Radio Symphony Orchestra · Dietrich Knothe
CD 9:
Johannes Brahms: Ein Deutsches Requiem / A German Requiem
Häggander · Lorenz · Rundfunkchor Leipzig · Rundfunk-Sinfonie-Orchester Leipzig · Herbert Kegel
CD 10:
Camille Saint-Saens: Christmas Oratorio · Felix Mendelssohn: Vom Himmel hoch (Choral Cantata)
Dresdner Kreuzchor / Dresden Boys' Choir · Dresdner Philharmonie · Martin Flämig

Weitere Bilder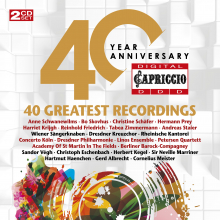 40 Greatest Recordings
Christine Schäfer · Bo Skovhus · Hermann Prey · Tzimon Barto · Vladimir Spivakov · Concerto Köln · Herbert Kegel · Dmitri Kitajenko · Christoph Eschenbach
2CD · C5470 PC: 01 (Special Price) UPC: 845221054704
It's time to take a moment and be grateful: It's been 40 years that the Capriccio label has produced records – through and despite all the upheavals and vast market shifts in the recording industry over the last decades. As the young label started out in 1982, still producing LPs and tapes, it was the first digital Beethoven Symphony cycle with the Dresden Philharmonic and Herbert Kegel (issued on CD two years later, in 1984) that first turned heads. Today, Capriccio's catalog includes well over 1,000 titles with a repertoire that stretches all the way from the renaissance to contemporary composers, is chock-full of re-discoveries and world premieres, and is performed by a steadily growing roster of internationally renowned artists. Time to celebrate? Why, absolutely. But also time to reflect on the fact that in these times, in the middle of the digital revolution as we find ourselves, it's hardly a given anymore to be able to continuously produce and publish classical records. Therefore this is also the time to thank our artists, our team, which operates in the background all over the world, and all our supportive accomplices and abettors who have contributed so much to the continuity and success of this label. Happy Birthday to all of us! (JK)


Weitere Bilder