releases
2018 Releases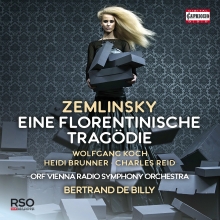 A FLORENTINE TRAGEDY Opera in one act op. 16 (1916)
Heidi Brunner Wolfgang Koch Charles Reid · ORF VIENNA RADIO SYMPHONY ORCHESTRA · BERTRAND DE BILLY
C5325 PC: 21 845221053257
Oscar Wilde's A Florentine Tragedy was written in 1893, but remained a fragment when the author was arrested for 'sodomy'. But the material was in the air, so to speak, and Alexander von Zemlinsky, who may have had Richard Strauss' recourse to Wilde's Salome in mind and hoped for a similar success with A Florentine Tragedy, finally converted the play into a one-act opera. Puccini had also been interested in the material, but the publisher Tito Ricordi advised him against it. Other potential takers also included Ferruccio Busoni who also found the ending too hackneyed. However, such alleged triviality did not deter his colleague Alexander von Zemlinsky, who celebrated success with his opera. Alban Berg admired the work so much that musical parallels to the Florentine Tragedy can be found in his Wozzeck, premiered eight years later.

Weitere Bilder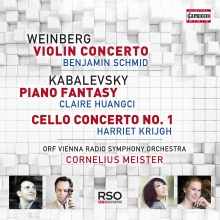 BENJAMIN SCHMID · CLAIRE HUANGCI · HARRIET KRIJGH
ORF VIENNA RADIO SYMPHONY ORCHESTRA · CORNELIUS MEISTER
C5310 PC: 21 UPC: 845221053103
MIECZYSŁAW

WEINBERG

(1919 – 1996)
Concerto for violin and orchestra, op. 67 (1959)


DMITRY

KABALEVSKY

(1904 – 1987)
Fantasy in F minor for piano and orchestra (after Schubert D 940)(1961)
Concerto for cello and orchestra no. 1 in G minor, op. 49
Dmitry Kabalevsky – despite the vague name recognition a widely unknown composer of socialist-realist music – has rightly been forgotten, if only because of his actively unsavory, toadying, opportunist politics that netted him three Stalin Prizes and four Orders of Lenin. He was chummy with the Russian Association of Proletarian Musicians when that seemed expedient and later a very active member of the Union of Soviet Composers. Weinberg is the exact opposite of Kabalevsky, politically and musically. He was a life-long victim of the Soviet Union and his music is – some genuine incidences of humor apart – a dense shot of genius that makes breathing difficult, not easy. With this Album Capriccio presents with a famous cast the music of two nearly forgotten Russian Masters their music and biography could not be more different.
Weitere Bilder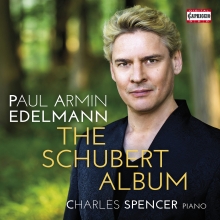 The Schubert Album
Paul Armin Edelmann, baritone · Charles Spencer, piano
C5331 PC: 21 UPC: 845221053318
Bei dir allein, op. 95 Nr. 2, D 866 · Halt!, op. 25 Nr. 3, D 795 · Der Neugierige, op. 25 Nr. 6, D 795 · An mein Herz, D 860 · Im Frühling, op. 101 Nr. 1, D 882 · Auf der Bruck, op. 93 Nr. 2, D 853 · Die Sterne, op. 96 Nr. 1, D 939 · Der Strom, D 565 · Tiefes Leid, D 876 · Auflösung, D 807 · Am Fenster, op. 105 Nr. 3, D 878 · Über Wildemann, op. 108 Nr. 1, D 884 · Prometheus, D. 674 · Atys, D 585 · Rastlose Liebe, op. 5 Nr. 1, D 138 · Greisengesang, op. 60 Nr. 1, D 778
Der Leiermann, op. 89 Nr. 24, D 911

Baritone Paul Armin Edelmann, son of the celebrated bass-baritone Otto Edelmann, presents his personal selection of Schubert songs on this, his fourth album for Capriccio: "The title we had in mind was On Fierce Roads. Many things can be fierce, from storms to life battering you. It's a broad field. But they are all agitated pieces, and not very melancholic." The international success he enjoys as a Lied interpreter can be appreciated once more with this new CD.
Weitere Bilder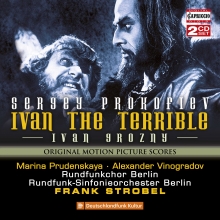 - ORIGINAL MOTION PICTURE SCORES -
MARINA PRUDENSKAYA, alto · ALEXANDER VINOGRADOV, bass · RUNDFUNKCHOR BERLIN · RUNDFUNK-SINFONIEORCHESTER BERLIN · FRANK STROBEL
2CD-Set · C5311 PC: 22 UPC: 845221053110
(UDSSR 1943-1945)
Epic film by Sergej Eisenstein (1898-1948)
with Music for soli, choir and orchestra by Sergey Prokofiev op. 116
First complete new recording oft he reconstructed original score

IVAN THE TERRIBLE – the second joint project of Sergei Eisenstein and Sergei Prokofiev – is, much like ALEXANDER NEWSKI, a historical epic, portraying the rise and fall of the autocratic ruler Ivan IV in the 16th century. Sergei Prokofiev's musical portrayal is unique in film history, for the score conceives both parts of the film on an epic scale. Prokofiev's rich melodic invention thrives on the expressive sound palette of his native Russia, mostly as they echo the spiritual works of the Russian-orthodox liturgy.


Weitere Bilder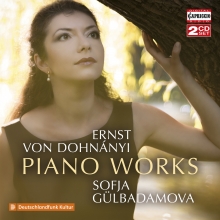 SOLO PIANO WORKS
SOFJA GÜLBADAMOVA, piano
2CD-Set · C5332 PC: 21 UPC: 845221053325
COMPACT DISC 1
Winterreigen – Zehn Bagatellen / Ten Bagatelles op. 13 (1905)
Klavierstücke / Piano Pieces op. 2 (1896/1897)
Klavierstücke / Piano Pieces op. 41
COMPACT DISC 2
Albumblatt F-Dur / in F major (1900)
Gavotte & Musette H-Dur / in B major (1898)
Fünf Humoresken in Form einer Suite op. 17 (1907)
Five Humoresques in the form of a suite op. 17 (1907)
Vier Rhapsodien op. 11 / Four Rhapsodies op. 11 (1904)
Dohnányi's piano works are representative of the late romantic era, with sets of character pieces reminiscent of Brahms' late piano works. Sofja Gülbadamova, a prize winner of many international competitions, has been hailed by the press for her poetic interpretations, profound musicality, and an astonishingly varied sound palette. For many years now, she has been a champion of the music of this unjustly neglected composer.



Weitere Bilder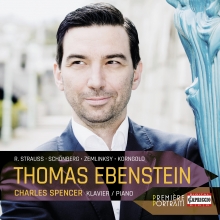 SCHÖNBERG · ZEMLINSKY · STRAUS · KORNGOLD
Charles Spencer, piano
C3007 PC: 01 UPC: 845221030074
Capriccio's "Première Portraits" CD-Edition supports young, talented artists by making their debut CDs available to a worldwide audience. This new release presents Thomas Ebenstein, who was born in Carinthia in Austria in 1979 and has been a
member of the Vienna State Opera since the 2012/13 season. He has played a
number of roles at the Salzburg Festival, including that of Pedrillo (The Abduction from the Seraglio). He has also appeared on a number of DVD performances for Arthaus Musik. These include David (The Mastersingers from Nuremberg), Steersman (The Flying Dutchman), Dancing Master (Ariadne on Naxos), Truffaldino (The Love for Three Oranges) and Alfred (The Bat).
Weitere Bilder
The Complete Flute Music - Vol. 6/10
Claudi Arimany · Shigenori Kudo · Maxence Larrieu · János Balint · Alan Branch · Michel Wagemans · Francesco Nicolosi · Barcino Horn Quartet · Orquesta Sinfónica Ciudad de Elche • Leonardo Martínez
C5300 PC: 21 UPC: 845221053004
"Valse di Bravura", Op. 33 (F&C) for two flutes and piano · Chanson d´amour. Air Varié, Op. 20 (F) for flute and piano · "Das Waldvöglein" (L'oiseau des bois). Idylle, Op. 21 (F) for flute and four horns · Morceaux favoris sur "Der Freischütz" opéra de C.M. von Weber (F) (WPR) for solo flute with piano ad libitum · Potpourri sur "Bánk-Bán" opéra hongroise de F. Erkel © (WPR) for piano and flute · Duo sur "La Muette de Portici" opéra de D.F.E. Aubert (F) (WPR) for two solo flutes · Moderato (F) (WPR) for flute and piano · "Fantaisie sur des motifs hongrois" © (WPR) for two flute and orchestra (original1853 Doppler orchestral version)
C = Carl Doppler / F=Franz Doppler / WPR=World premiere recording
The Doppler brothers played a dominant role in the Imperial-Royal Monarchy's musical life as composers, conductors, musicians and orchestral soloists. They were on good terms with acknowledged artists of the era, such as Ferenc Liszt and Ferenc Erkel, as well as Jozsef Bajza, director of the Budapest National Theatre.
This is the sixth release in a set of 10 CDs comprising the Dopplers' complete music for flute(s), including various arrangements. Flautist Claudi Arimany spent
decades researching this project, inspiring many famous musicians to become involved in its realisation.


Weitere Bilder